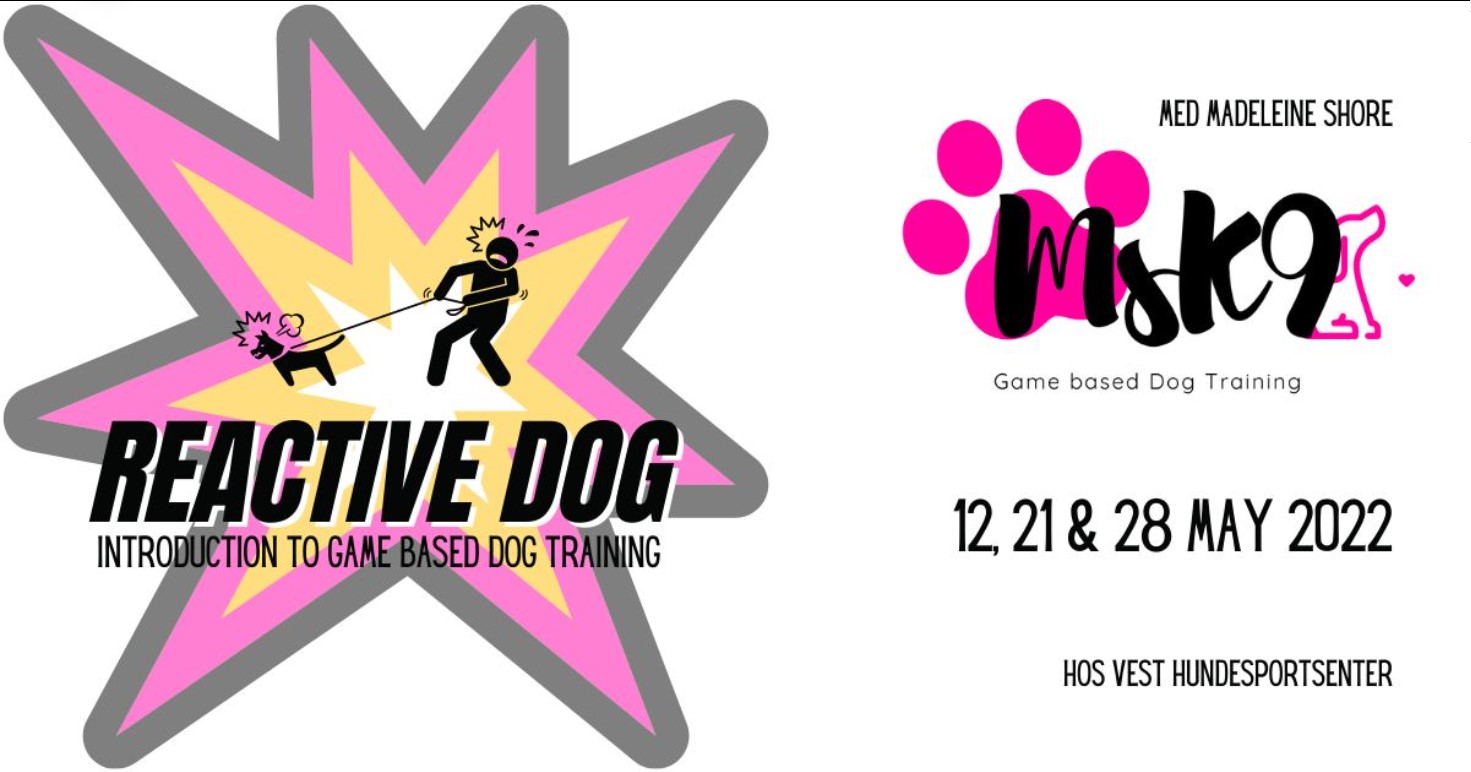 Reactive Dog & Game based training Workshop
Welcome to the Reactive Dogs & Game based training Workshop!This is a 3 day Workshop that dives deep into how we can reshape our reactive dogs brain with the power of Game based dog training.Day 1 is and Introduction day that can be joined individually or in combination with the two days of Practical Training.Here I will explain how concept dog training works, what skills are needed to tackle reactivity and how we can transform the dogs brain. The theory will be in English but if something should be unclear it can be explained in Norwegian.
This will be on the Thursday the 12.05. at 19:00 – 20:30 (+30 minutes if you attending the Saturday sessions where we talk about what you need for the Sessions and meet each other)The Practical Training days where we practice the games and set up a trainings plan for you and your dog will be on two Saturdays:
21.05.22 – 16:00 – 19:00
28.05.22 – 16:00 – 19:00
Price:
only Thursday: 450 nok
all 3 days with dog: 2400 nok
all 3 days without dog: 1200 nok
Date: 12. May, 21.May, 28.MayInstructor: Madeleine ShoreAbout me:
I am originally from Germany and been living in Norway for close to 10 years now. I have always had a passion for animal behavior. I grow up with a house full of Irish setter and got my very own first rescue dog at the age of 12 years. I volunteered at the local Animal Shelter for almost all my teenage years and was always drawn to the dogs that seemed hopeless. I was also very active in horse sport and horse training. In 2001 I moved to Texas and here I took my first course as Dog Training Instructor with focus on Clicker Training.
Over the course of the following years I have attended several courses in Animal Behavior, Nutrition and Conditioning. In 2012 did I move to Norway and live here now with my Border Collie mix Pepe and my Samoyed Simba. While I learned the language I ran a small scale in home dog sitting and walking business.
In 2020 I found out about Game Based dog training and it just made sense. I took the Pro Dog Trainer course with Absolute Dogs and have since been training purely game based.
I work mostly with behavior transformation through games with a passion for dog – dog reactivity including how to prevent it from happening in the first place.
I do speak Norwegian, English and German and teach in all 3 languages but definitely feel most comfortable speaking English.To join only Thursday or as Observator simply send me a message or write an email to [email protected] if you are joining all 3 days with your dog just follow the Ticket link and reserve your spot today!